All In One School Automation And Collaborative Cloud ERP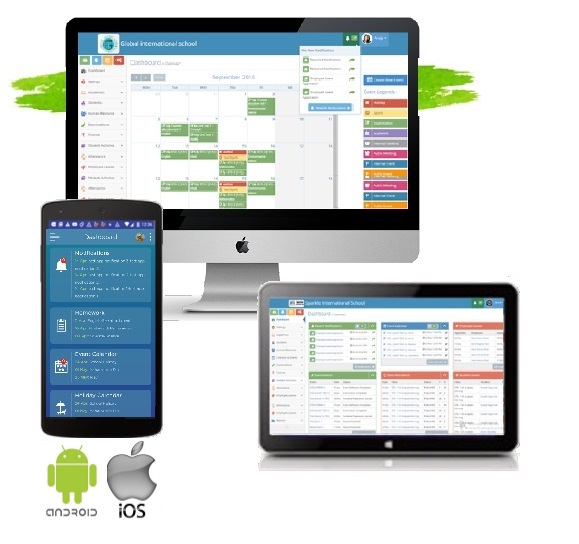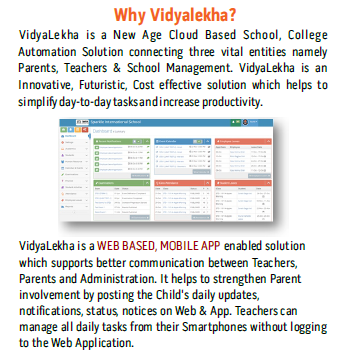 Benefits to Schools & Colleges
School Operations
Now manage your day to day operations efficiently. Vidyalekha will allow you to run your Admin, Teacher and Management operations with minimal effort, saving your valuable time so that you can concentrate on the other important tasks.
It's advanced and flexible reporting platform helps you to get indepth analysis of the data. Screens and functionalities designed to get good user experience and high usability of the product.
Parents Collaboration
Effective Parent-Teacher Collaboration through regular updates about Attendence, Homework, Complaints, Pools, Performance analysis, Manual and Auto Notifincations.
Vidyalekha's strong communication platform creates positive sentiments amongst parents community which helps Schools to gain parents confidence and trust.
Teachers
Manage your daily activities from web as well as Smartphone. Vidyalekha's Teachers module helps you to communicate with class, admin and custom groups with click of a button.
You will be able to post homework,worksheets, attendence, leave applications and notifications right from the class through Android application.
Administrators
Vidyalekha's main focus is on reducing Admin work by providing simple yet powerful user interface. Some silent futures such as Timetable creation, Students migration, custom group communication, Analytics, Flexible reporting and Automatic notifications on top of core admin functionalities.
Management
Get 360 degree view of the school right on your smartphone. Combined reporting per school or group of schools with advance analytics enables you to keep watch on every aspect of the school. Event based notifications or Alerts, Analytical reporting and forecasting features allow Vidyalekha to differentiate from other similar products.
Support
We expect customers to love our product, it should be highly usable but simple and easy to operate. Rather than getting thousands of unsatisfied users, we are happy to have fewer satisfied ones.
With dedicated Relationship Manager, expect surprisingly good customer support from the day one through the mean of telephone, email or onsite visits.
VidyaLekha Offerings